Gutter systems are designed to control the flow of water that hits your roof and move it away from your home. Gutters are one of the most ignored parts of any homeowner's maintenance list. Understandably, rain gutters are simple in their design and operation; they carry water from the roof to the ground. However, this helps protect your house from severe water damage, making it necessary for your home.
First Choice Roofing and Construction installs seamless gutters guaranteed to fit your home, work effectively, and keep water away from your house.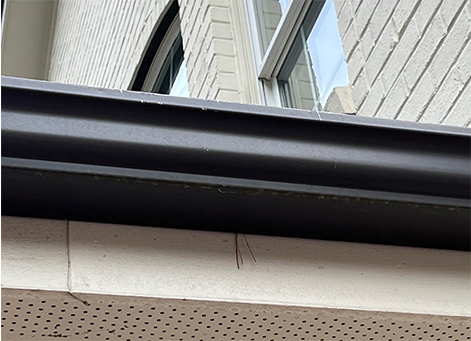 Top 10 Advantages of 6" Seamless Aluminum Gutters
01

Custom Cuts

Seamless gutters come in one solid strip custom-fitted to your home's roof, guaranteeing the most precise measurements and allowing them to dispel water away from your roof and home effectively.

02

Reduced Debris Build-up

Unlike sectional gutters, seamless gutters lack lips and joints where leaves, dirt, and other debris often pile up, meaning less maintenance and possible falls or injuries throughout the year.

03

Fewer Joints

Fewer gutter joints result in a much cleaner, more attractive look for your home, adding to your curb appeal and property value.

04

Less Leakage

The issue of leaking water from joints in sectional gutters virtually disappears with properly installed seamless gutters.

05

Appealing Aesthetics

Potential buyers will appreciate the small detail of seamless gutters. They're considered much more attractive than their sectional counterparts because they are sleek and smooth and lack gaps.

06

Minimal Maintenance

Seamless gutters require minimal maintenance compared to sectional gutter systems. No more cleaning out your gutters and exposing yourself to serious injury.

07

Longer Lifespan

Seamless gutter materials are durable and withstand considerable weathering compared to sectional gutter systems, cutting down on maintenance and repair costs. Seamless gutters can last as long as 20-30 years with proper care.

08

Color Matching

Seamless gutters are an excellent choice for homeowners who wish to match their gutter system to their home's siding. You can choose a style that complements your house's existing color scheme.

09

Reduced Repair Costs

Although seamless gutter systems are a significant investment, they can save you extra money over time. There is a much lower chance that you'll need regular repairs with seamless gutters, resulting in a lower cost overall.

10

Easy Installation

Finally, the most attractive attribute of seamless gutter systems is the ease of installation. Contact us to receive a quote and get started on the stress-free installation of your seamless gutters.
Residential Gutter Gallery