Commercial
Our experience and qualified crews, at First Choice Roofing and Construction, LLC , provide full service commercial maintenance, roof replacement and re-roofing options from Asphalt Shingles, Metal, TPO, PVC, Built-Up Roofing , EPDM as well as leak preventive coating options. FCR understand the complexities and requirements that come along with a project of any size, that is why we are the right Commercial Roofing Contractor for the job. Most importantly, we understand our commercial clients and the demands of their business operations, so will we handle all the details, along with the back-end work, from start to finish.
Our ground-breaking Aerial Technology and High-Resolution Aerial Imagery allows us to rapidly make crucial decisions and streamline the planning and production of your commercial project, with minimal to no impact to your daily operations. This not only speeds up the estimating or adjusting process, but also gives us an advantage on how to properly asses each and every roof facet, pitch, hip, valley and penetration (i.e. HVAC units , ventilation systems, drainage systems, walkways/access points). At First Choice Roofing and Construction, our focus remains on the safety of the crews and the property while providing you with unparalleled workmanship and a long- lasting commercial roofing system.
Roof Replacement or Re-roofing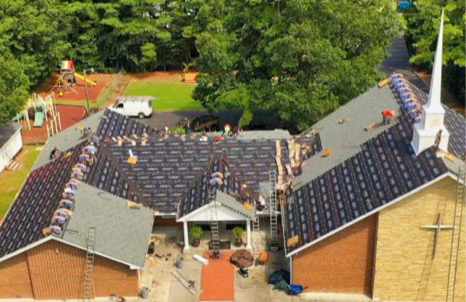 FCR is licensed and fully insured. Our commercial team understands and is knowledgeable of state codes, zoning, and permitting requirements necessary to begin a project of any size, so you can rest assured there will be no cause for the project to stall.
We work with commercial insurance adjusters on a regular basis and are deeply knowledgeable of the claim filing process. As you know, large-scale projects have no room for mistakes. Our experience with the commercial claims process allows us to avoid many of the roadblocks that can occur during the claims filing process. Working with adjusters and the insurance company does not need to be a stressful experience for you when you have daily "business operations" to manage. That is why our commercial team will allow you to continue to stay focused on your business priorities, as we stay focused on what we do best, while keeping you informed on the status of the project every step of the way.
What You Can Expect When Planning Your Project
FCR will provide a Free Inspection of your facilities roof to determine if the need for replacement is caused by storm damage and can be paid for under a No-Fault Insurance Claim or if a Retail Estimate is required.

If an Insurance Claim is filed, we will assist in the approval process of the roof when the Claims Adjuster comes to inspect the property. And come to an agreement on a cost to replace using Xactimate, which is an estimating system used by both the Insurance Companies and Insurance Restoration Contractors. This system uses average market pricing to determine the payment from the Insurance Company to replace any damaged roof coverings with like-kind and quality materials. (We handle all the back-end work and communication with the insurer)

Once we receive approval from the Insurance Company or a Retail Estimate is generated, we will review all products along with the installation process with you. Once the project requirements are agreed upon, we will then sign a contract.

Timeline of the project - First Choice Roofing is typically 3-6 weeks out depending on the size of contract and materials agreed upon following contract signing. (If the roof is actively leaking, we will tarp the damaged areas until date of installation)

Project planned around location of the roof and contents with-in: o We will consider the external environment of the building and how we plan to work around structures geographical placement and protect all exterior, covering with tarps. o We will plan to protect the Interior as vibrations during construction may disturb fragile content within structure (i.e. hanging glass mirror or frame attached to wall)

Permits and Safety Plan – Rooftop safety and accessories will be used per regulations and permits filed for accordingly.

Material order and delivery date
Construction Begins - Once we determine the solution and right roofing system we can get started on the project.
Completed Project – Perform a final walkthrough and sign off with a Certificate of Completion (COC).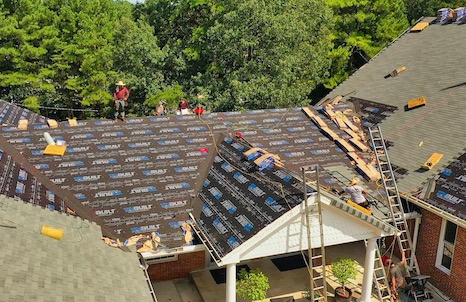 Roof Repair
Once an FCR specialist has assessed the roof covering and has determined a replacement is not needed, do not worry, FCR has you covered as no job is too big nor too small. An estimate will be provided to you based off our Damage Analysis Report in which you will receive a copy. Our main concern is to remediate any and all problems that may cause water damage to the inside of your commercial property. A flat roof is particularly susceptible to leaks. Replacing all materials in the affected area and overlapping them properly to ensure that there are no seams to allow water seepage is always recommended.
Roof Maintenance Contract
Depending on which contract is chosen, an FCR specialists will inspect your building's interior for signs of water damage, such as mold and mildew and water stains. This will give us guidance to find the exterior leak points or assurance that the interior has not sustained any damage. Once on the roof covering, a cleaning for dirt and natural debris will be done. On Asphalt Shingle Roofs we will inspect all flashings, ventilation, pipe boots, seals around vents, nail pops or any storm related damage. On Flat Roofs, we will also clean the roof covering of debris along with a cleaning of the drains and for all signs of damage including storm related. Additionally, the FCR specialists will check the roof for low spots, with standing water, and document any weathering, blistering, cracking, abrasions, deep scratches, as well as for tears/holes in the membrane. Flashings, roof edges, terminations, expansion, and control joints will also be inspected.
24 Hour Emergency Services
Emergency monitoring and response services are another way we serve our commercial clients. If you have an after-hours emergency, rest assured you can count on FCR to be on-site right away to mitigate all damage or disruption that occurred at your location. Tarps are frequently used until damage is assessed. An estimate will be provided, and repairs can be performed during regular business hours, soon after.