What we look for and why
First Choice Roofing acknowledges that your home is your haven; it is a place where you house your families, your memories, and the material items that hold value to you. It is our objective and purpose to ensure that these sentiments are well protected from the shortcomings of a damaged roof. As GAF Certified Storm Inspectors, First Choice Roofing looks for damages on your roof that relate to hail and wind. Finding hail or wind damage does not mean that your roof is compromised, but it does mean that further down the road, those damages can cause strenuous problems to the interior of your home and even your belongings.
Upon an inspection, our storm inspectors will walk the property with you, looking for storm-related damages that may have affected areas on the ground level such as windscreens, downspouts, siding, and garage doors. Following, we will get on your roof and do an examination of the top domain: shingles, gutters, soft metals, and other vulnerable areas that are susceptible to environmental happenings.
Wind-induced damage can look like blown-off shingles or creased shingles that flap in the wind. This is most commonly found on roofs that house a three-tab shingle.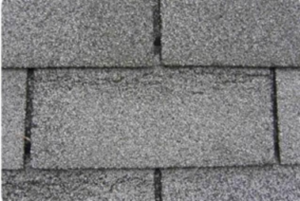 This particular shingle lays flat on the roof and is more susceptible to wind speeds that exceed 50 mph.
There are multiple factors that go into consideration when assessing hail damage to a roof and its surroundings such as hail size, hail density, hail shape, velocity, and direction. Our job is to decipher whether the hail damage is "cosmetic" or "functional". Cosmetic hail impacts are visible but do not affect the performance of the roof. On the other hand, functional damage caused by hail is more urgent, affecting the integrity and the longevity of your roof.
To understand how hail can damage a shingle, you must first know the makeup of a shingle. The base component of an asphalt shingle is a membrane composed of fiberglass that maintains the structure of the shingle and is covered by layers of asphalt that gives the membrane its impermeability. The next layer consists of a thicker coating of asphalt that provides the membrane flexibility and protects the membrane from harsh weather. The top surface is covered in granules, where the shingle color is visible, and those granules make the shingle resistant to the sun's ultraviolet rays.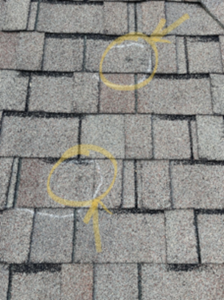 North Carolina may not bring softball size hail, but we do get hail ranging from the size of a quarter to a golf ball.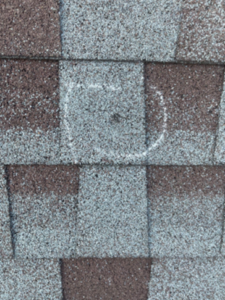 How do these "bigger" problems develop?
Hail impacts, at high speeds, knock the asphalt granules off your shingle, essentially leaving the other components underneath unprotected from weather and the South's intense sunshine. This can eventually lead to a melted membrane and exposure to your home, which is where those heinous interior leaks problems stem from.
Solutions?
As a homeowner, always take the safe route and have your roof inspected after every storm in order to preserve the integrity of your roof, your home, and give you a little peace of mind.
Client Sources
Microsoft. (n.d.). How It's Made Shingles Roof Tiles . Bing. Retrieved March 30, 2022, from https://www.bing.com/videos/search?q=what%2Bis%2Ban%2Barchitectural%2Bshingle%2Bmade %2Bof&docid=608017088476888032&mid=816FF178F9F0F41C481F816FF178F9F0F41C481F &view=detail&FORM=VIRE
Control, T. R. (n.d.). Identifying roof hail damage. Identifying Roof Hail Damage | Travelers Insurance.RetrievedMarch30,2022,from
https://www.travelers.com/resources/weather/hail/identifying-hail-damage-to-your-roof