Join the FCR Team
Why Work for First Choice Roofing?
"The strength of the team is each individual member. The strength of each member is the team." ― Phil Jackson
First Choice Roofing and Construction, LLC is one of the fastest growing locally owned and family operated small businesses in North Carolina and Georgia. As part of our foundation, we pride ourselves on integrity, culture, customer service, communication, and most importantly a safe and secure, friendly environment to work in.
At First Choice Roofing, company culture matters. It is the fuel driving our teammates toward their full potential. Every specialist we hire plays an integral role in the entire roofing process. From our Canvassers, Sales Managers, Area Field Managers, Project Managers, Roofing Crews, Clean-up Crews, to our professional and courteous Back-office Support Team. Our reputation is only as good as the roofs we install and service so that is why we invest and are dedicated in hiring the best employees.
Over 50% of our workforce has an average of over five to ten years of roofing or industry knowledge, but it does not stop there. We push for continual growth and development both professionally and personally. That is why we strongly believe and dedicated to ongoing training of product knowledge and industry best practices. We believe our customers, teammates, and our friends and families, deserve nothing less.
If that sounds like you… and you want to be part of a dynamic, fun, energetic team reach out to us and apply to any of our available opportunities.
Openings at First Choice Roofing

Are you a self-starter with a passion for sales? Do you enjoy meeting new people and building relationships? If so, we want you! Our roofing company is seeking a motivated door-to-door lead generation specialist to join our team. As a lead generation specialist, you will be responsible for visiting homes and businesses in your designated territory to promote our roofing services, and set appointments for our sales team. The ideal…

Role Overview: The Quality Control Manager plays a critical role in ensuring that the residential roofing projects are executed to the standards of First Choice Roofing. This individual is responsible for overseeing and maintaining the quality and safety of the roofing installations, while also facilitating effective communication between various project managers, crews, and the homeowners. Key Responsibilities Quality Assurance: Verify that the roofing materials are correct on site before build…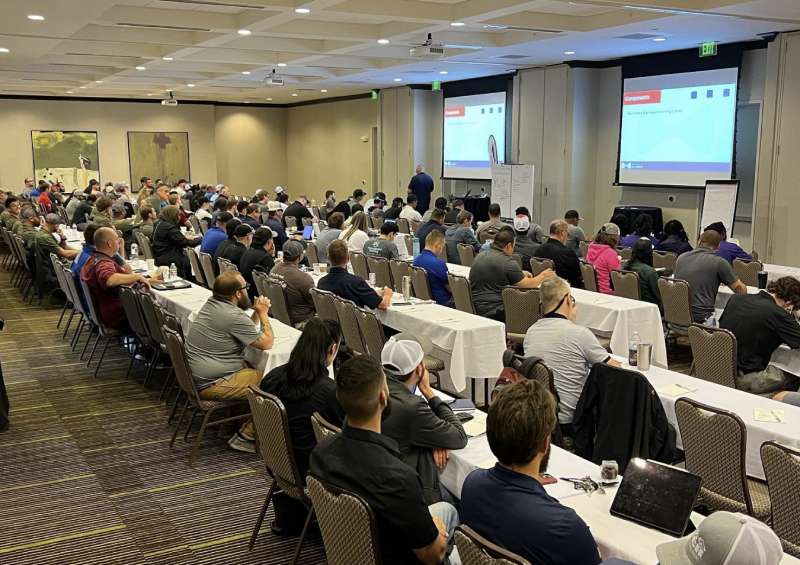 First Choice Roofing's company culture is shaped by its moral values that define us including customer service, results, professionalism, service and more.

Integrity:

We act ethically, no matter the consequences. We believe there is a right and wrong way to live and do business and we will always do the right thing. We make wise choices, on behalf of our company, clients, and co-workers exhibiting good moral principles always.
"The time is always right to do what is right," – Martin Luther King Jr.

Customer Service:

We go above and beyond to ensure every client's needs are met with a positive courteous manner; no matter what. Customer service is our top priority to ensure the customer is happy and 100% satisfied. Our reputation is only as good as the customer experience and workmanship we provide.
"It takes months to find a customer… seconds to lose one." – Vince Lombardi

Innovation/Progress:

Good is never good enough for our company or our clients. We constantly seek to improve, serve, and transform every experience and project.
"Innovation distinguishes between a leader and a follower." -Steve Jobs

Creativity:

We deliver new solutions to old problems. We do not believe in the mentality "It has always been done that way." We strive to deliver bigger, better, smarter solutions that brings trust and builds value with our clients.
"We can't solve problems by using the same kind of thinking we used when we created them." – Albert Einstein

Dedication:

We identify with the quality of being dedicated or committed to every task or project we take on. Our dedication is to our employees and our commitment is to our clients.

"Decide what you want, decide what you are willing to exchange for it. Establish your priorities and go to work." – Haroldson Lafayette Hunt, Jr.

Teamwork:

We work as a team on every task or project to accomplish goals on behalf of our clients and our team realizing that working together as a whole is greater than the sum of its parts.

"If I have seen further, it is by standing on the shoulders of giants." – Isaac Newton

Work-Life Balance:

We strongly believe that we do not just win at work. We win at work, and at home when we value the time, of every worker, to grow professionally and personally in and outside the office. Meaningful daily achievement and enjoyment in each life quadrant: Work, Family, Friends and Self.
"Never get so busy making a living that you forget to make a life." —Dolly Parton

Results:

We measure ourselves and our performance based upon the output of our work. We welcome the expectation from clients and co-workers because we know that fulfilling that expectation creates value.
"There is no such thing as failure there are only results."  – Tony Robbins

Professionalism:

We present ourselves, our company, and our work with an intentional professional and courteous manner. We work consistently to develop our skills and knowledge to enable us to make wise choices exhibiting good judgement and treating other people with respect.
"Professionalism: It's NOT the job you DO, It's HOW you DO the job." — Anonymous

Professional Growth:

We expect the continuous acquisition of skills and knowledge, both to provide better service to our clients, for personal development and for career advancement through all aspects of learning.
The most dynamic teams are those that strive for more success and are willing to get uncomfortable with their selves to reach their potential especially when it impacts the team. Therefore, it is the responsibility of those on our team to intentionally pursue learning and improvement. It is the company's responsibility to assist wherever possible.
"The best way to predict the future is to create it."  – Abraham Lincoln

Service to Others:

We believe that true leadership is found in service to others. We make every effort to serve our company, our clients, our co-workers, and their family's needs.
"Leadership is service, not position." – Tim Fargo